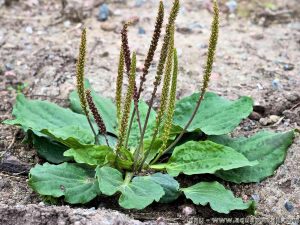 INCI NAME: Propanediol ,Plantago major Leaf Extract
Plantago major is a species of genus Plantago known by the common names English plantain, narrowleaf plantain, ribwort plantain, ribleaf, buckhorn plantain,buckhorn, and lamb's tongue. P. major contains phenylethanoids such as acteoside (verbascoside), cistanoside F, lavandulifolioside, plantamajoside and isoacteoside and saponin. The studies also indicated that increasing the level of wound healing and collagen plantago herb.
Firoblasts play an important role in wound healing with collagen secreted. Another important factor in the improvement in adults (adult) stem cells and their skin is a niche (micro environment)
Extracellular matrix (ECM) increase in MMP enzyme activity that leads to fragmentation is an important parameter in charge of both chronological photoaging. MMP enzymes are found to be increased in inflammatory cells in the dermal fibroblasts and photo-damaged skin. MMP-1 (collagenase) is responsible for the breakdown of collagen type 1 protein (1)
The decreased level of MMP-12, located in the ECM, laminin, are protected from degradation of elastin and collagen protein matrix components and indicates that the continuity is maintained. Especially at high rates of plantago herb contains saponins which is the fibroblast inhibition of matrix metalloproteinases (2), and studies that increase collagen synthesis are available (3).
Properties
Inhibits the production of MMP-1and MMP-12 which is a major protein involved in collagen breakdown
Increases skin density (as a result of increased collagen synthesis
Smoothes skin and reduces appearance of wrinkles
Protects cells against the effects of UV radiation exposure
Recommended Applications & Use Levels
Applications: For use in skin care products, especially those for ageing, anti-wrinkle and mature skin.
Recommended use levels:  3-5%
References
1-Mirko Manetti,  Serena Guiducci, et at. Increased serum levels and tissue expression  of matrix metalloproteinase-12 in patients with  systemic sclerosis: correlation with severity of skin  and pulmonary fi brosis and vascular damage. Ann Rheum Dis 2012;71:1064–1072. 
2- Kim YG, Sumiyoshi M, Sakanaka M, Kimura Y. Effects of ginseng saponins isolated from red ginseng on ultraviolet B-induced skin aging in hairless mice. Eur J Pharmacol. 2009;602:148–156
3- Young Soo Kim1, Ik-Hyun Cho. Therapeutic Effect of Total Ginseng Saponin on Skin Wound Healing. J. Ginseng Res. Vol. 35, No. 3, 360-367 (2011).